Why use a Heating Cover for your Base Board Renovations?
What are the benefits to NeatHeat? Why use a heating cover instead of just redoing your base board?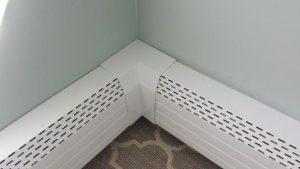 It's blatantly obvious to anyone that owning a piece of property is no easy task: it's one of the most valuable things you can acquire, and it takes a lot of time and effort to take care of it. However, you want to keep paying for the property and pay for the upkeep, so full time work is also in the cards, meaning you've only got so much time to spend on taking care of your property.
So how do home owners take care of their homes without letting it interfere with their day-to-day tasks?
The simplest way to do it is by spending their time wisely, timing their renovations for good periods of time like weekends and days off, and making sure that they do the renovations themselves they can handle and let contractors and professionals handle the renovations they are not well-versed in.
Home renovation is not easy, some of it ranges from the more simple tasks like painting to doing work on the roofing, plumbing, electricity, and other jobs that tradesmen spend quite a bit of time mastering.
Whether you do the renovation yourself or hire a professional, the supposed end result is the same: an efficiently done, good looking rework that's going to last as long as possible.
Why Use a Heating Cover Instead of Renovating your Base Board?
Nobody wants to paint their house just to find that they left blotches they've got to fix later just like nobody wants to clean their base board just to see it getting rusty after a short period of time.
Base board is considered to be one of the more annoying renovations simply because you're cleaning rust and removing dents and scratches from metal, a material that is guaranteed to oxidize when it's constantly absorbing heat, which especially occurs during the winter.
Long winters in New England generally mean homeowners have to deal with their rusty, disgusting base board constantly, and the fact that all the metal is attached to the wall and they have to mechanically remove the parts, strip by strip, just to clean them doesn't help.
Most homeowners end up using the better part of a weekend to remove all those parts, clean them, and put it all back together, just to have to deal with it again in a short period of time.
What are the Advantages to NeatHeat's Covers?
Plus, the base board looks outdated and worn even after a recent renovation. Homeowners like the idea of using a cover because the right cover will just snap right on over your base board, even if parts are damaged or missing.
So why use a heating cover from NeatHeat? The answer is simple: NeatHeat's covers are not made of metal! Instead, they are constructed with a composite polymer to not rust, chip, or dent, and their unique flavor in design means they don't yellow, fade in color over time, or take damage from your heating element.
NeatHeat covers snap right over the existing base board or can just snap on if you remove the front plate from your base board, meaning they can replace most of the troublesome metal on your base board and provide a much nicer, newer look to your base board heating system.
With NeatHeat's covers, you get a solution that saves you time and money and means that renovations are a breeze. To learn more about why use a heating cover from NeatHeat, click here.