Why Cover your Base Board Instead of Repairing?
What are the advantages to a NeatHeat cover? Why cover your base board?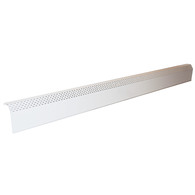 Owning a home is easily one of the biggest responsibilities you can take on as it takes a lot of time and effort to keep it in good shape. Homeowners end up taking a lot of time taking on tasks, some of which are much easier than others.
It's fairly common for homeowners to do the renovation themselves, especially if they can figure out how to do the work efficiently. Do it yourself is very useful as a homeowner, the key is making sure you can get the rework done well.
No homeowner wants to spend the time doing something installing tiling in the bathroom only for the work to be subpar and need to be redone in a short period of time.  It's important for homeowners to get the best possible renovation, so they need to do it right, even if it means spending money on a contractor.
Hiring contractors can be a very expensive endeavor but is considered worth it for homeowners because they can spend less time and guarantee that some of the very complex home renovations get done right. This frees up time to work on other tasks in the home.
Why Cover your Base Board?
Some home renovations are much more annoying than others, but the key is that if you're spending a lot of time or money on the rework, it will take a long time before you've got to do the job again. That way, you're spending less in the long run.
With reworks such as base board, it gets a lot more complicated because they are time-consuming and don't last long before needing to be redone. Hot water heaters line the bottoms of the walls in most rooms in a home, so there's a lot of base board to maintain, and it gets damaged very easily.
Because the base board is made of metal and is constantly absorbing heat, it gets rusty and disgusting very quickly, and even if you clean it, the base board will rust again shortly. In addition, the base board is easy to get dented and scratched since it's easy to miss and gets kicked and bumped into often.
There's no great way to physically renovate the base board permanently since you've got to tear each strip apart and renovate the whole thing, which can take the better part of the weekend between all the rust, dents, and scratches.
The Advantages to NeatHeat
The easiest solution for homeowners is using a base board cover. But why cover your base board to solve this kind of a problem?
A good base board cover from NeatHeat snaps right over your existing base board even if parts are damaged or missing so it can replace most of your metal base board. The covers are very easy to clean or maintain over time since they are made of a composite polymer.
This means NeatHeat covers don't rust, chip, or dent, and they won't show scratches easily due to their continuous white color. In addition, the covers are made of titanium dioxide, so they won't yellow or fade in color over time.
NeatHeat covers make life much easier for you because they are easy to install and maintain over time, and they provide a sleek new look to your home. To learn more about why cover your base board with NeatHeat, click here.