Why not just repaint?
What is your time worth? Even if you are a professional painter sanding, priming, and painting will likely take several hours and still have that 'repainted' look. At the end of the job you will still have a heater whose design hasn't changed in fifty years, still has sharp metal edges, and ultimately WILL RUST again. When compared to the seconds it takes to install NeatHeat which gives a clean modern look, has no sharp edges, and WILL NEVER RUST AGAIN the choice for most people is obvious.
Does this affect the ability of my heater to work properly?
Short Answer: No.
Long Answer: Baseboard heaters transfer energy via both convection (airflow), conduction (direct contact). Energy isn't created or destroyed, simply transformed from one form to another. NeatHeat is less conductive than the standard metal enclosure. Simply put less energy conducted is more available for convection which testing has proven. Many consumers have reported feeling 'more heat' coming out of the enclosure after installing NeatHeat, perhaps feeling a bit more airflow than in the past.
Will NeatHeat fit on my heaters?
Where can I find NeatHeat?
NeatHeat is available through many retailers both in store and online. Retail locations are being added all the time, and a complete list can be found here.
What different parts are available?
Currently there are seven parts available in the 30/07 series:
FC04-30/07 BW (4' Front Cover)
FC06-30/07 BW (6' Front Cover)
IC90-30/07 BW (Inside Corner 90)
OC90-30/07 BW (Outside Corner 90)
LEC-30/07 BW (Left End Cap)
REC-30/07 BW (Right End Cap)
SP-30/07 BW (Splice Connector)
Currently there are six parts available in the taller 80/09 series:
FC04-80/09 BW (4' Front Cover)
FC06-80/09 BW (6' Front Cover)
REC-80/09 BW (Right End Cap)
LEC-80/09 BW (Left End Cap)
IC90-80/09 BW (Inside Corner 90)
SP-80/09 BW (Splice Connector)
Do I need any special tools or skills to install NeatHeat?
Generally NeatHeat can be installed by anyone requiring to special tools or skills. NeatHeat can be cut to length with a utility knife, hacksaw, chopsaw, or even carpet shears. If you can follow basic instructions you should be able to install NeatHeat. Check out the installation video found here.
What parts do I need from the existing heater?
You need the existing back plate (the part that attaches to the wall), which also is needed for the clips that support the existing heating element. NeatHeat can be installed either over the front cover and/or damper or in place of either or both.
Will NeatHeat get dented or scratched?
NeatHeat will not dent, and since the color is continuous throughout it will not readily show scratches or chips. NeatHeat can be cleaned using common household cleaners.
Is NeatHeat child friendly?
NeatHeat has no sharp corners, and effectively protects occupants from potentially hazardous conditions which may be in the home due to existing baseboard heaters. Many parents and daycare centers are using NeatHeat to keep small fingers away from the metal enclosures and the sharp metal fins that are located inside.
Will NeatHeat rust or oxidize like other so called "solutions"?
No, NeatHeat is the only solution that will never rust or oxidize, under ANY conditions… EVER!
Is this for electric baseboard heaters?
No, NeatHeat is NOT for electric baseboard heaters, it is designed to be used with hot water (hydronic) baseboard heaters.
How much Does NeatHeat cost?
The cost varies depending on the individual retailer, but remember, the cost of the part is only a piece of the entire job. To replace the entire heater will take many hours often requiring a professional which can cost hundreds even thousands of dollars. Repainting is time consuming and tedious. Ultimately all other solutions to correct rusted, damaged baseboard are costly, time consuming, and temporary repairs at best. NeatHeat is the only solution that will NEVER RUST, install in seconds without special tools or skills, protect against sharp edges and corners, and give a modern clean look to dated, damaged, rusting baseboard heaters.
Is NeatHeat paintable?
Yes, NeatHeat is very easy to paint requiring very little surface preparation and using any spray paint designed for polymers readily available in your local hardware store.
Will NeatHeat melt?
NeatHeat will not melt or off gas at temperatures well above that of hydronic baseboard heating.
My Covers Pop Off when I Turn on the Heat
Through extensive testing it has been determined that when properly installed NeatHeat covers will not "pop off" even at temperatures exceeding that of a residential hot water heating system. If this is happening there are two possible causes:
The heater profile does not fall within the specifications given in the 'how to measure guide'. Since there are many subtle variations in heater profile, sometimes even within a specific manufacturer over time, we always recommend checking the specific heater against the 'how to measure guide' which can be found here: https://getneatheat.com/how-to-measure It is important that the heater meet ALL of the parameters given, if not NeatHeat covers simply will not fit properly.
The NeatHeat cover is not properly installed. When properly installed the tab at the top rear of the NeatHeat cover MUST engage behind the existing metal enclosure, i.e. the tab sits between the wall and metal enclosure. The end cap must similarly completely engage both the enclosure and the NeatHeat cover for proper fitment. See attached pictures for more clarification.
[row][column xs="6″]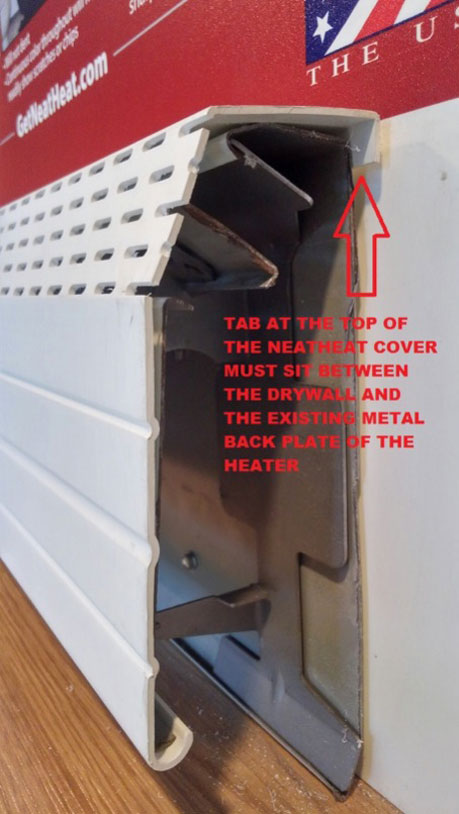 [/column][column xs="6″]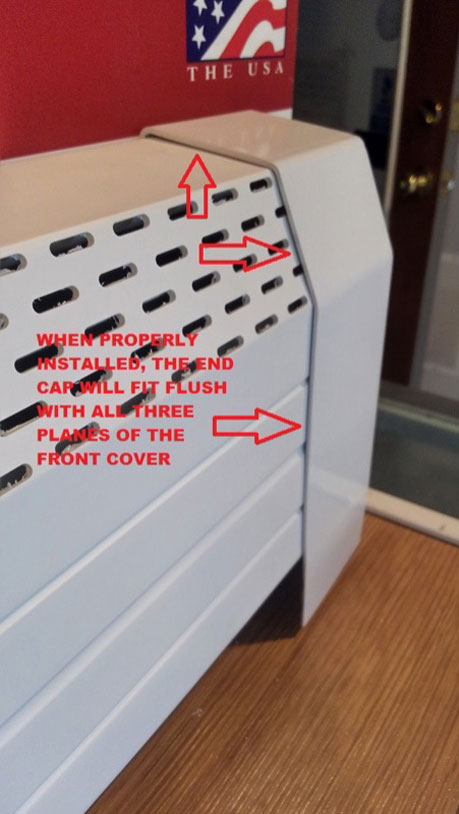 [/column][/row]