Why use a Base Board Cover in your Home?
What are the benefits of NeatHeat? Why use a base board cover instead of renovating the base board?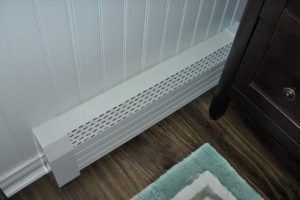 Whether you own or rent, you've got a lot of reasons to keep your home in the best possible shape. Without a home that's cleaned and kept well-maintained, you can stand to lose money in the long run and there's not much appeal in staying in a deteriorating home.
Home renovations can be complicated because a lot of the work in your house like electricity, plumbing, carpentry, and air conditioning are tough to do for the average homeowner. A lot of homeowners end up having to outsource the work they need done simply because they're not quite sure how to do the work.
A lot of savvy homeowners will roll up their sleeves and learn how to do most of their house work themselves. While this can be useful, there are a couple reasons to be wary of this approach.
Whether you own or rent, odds are good you work full time and have all sorts of responsibilities, meaning you don't have time to do renovations yourself beyond nights and weekends. This means you've got to be as judicious with your time as possible.
In addition, when a homeowner completes a renovation, they want it done as efficiently as possible so it lasts as long as possible. If you can't efficiently do the work, you're better off hiring someone else.
The Challenges in Base Board Renovation
Many a homeowner has hired a gas fitter to renovate their base board, only to find that there's no real magic solution to physically renovating your base board. The problem is that base board heaters are made of a lot of metal, and when your heat is running it's going to oxidize that metal fast.
In addition, base board heaters are generally in the corners in easy-to-miss spots, so a lot of homeowners kick and bump into the base board with furniture, causing dents and scratches. Rust can be scrubbed off with a little bit of elbow grease, but you've got to pull out the heavier duty tools to get rid of dents and scratches.
Homeowners hate base board renovations because there's no good way to physically alter the metal base board, and even gas fitters will tell you the work is frustrating and oftentimes not worth your time and effort. So what's the best solution for a homeowner struggling with their base board?
Why use a Base Board Cover from NeatHeat?
The answer is NeatHeat's base board reconditioning system, which can improve the look of any base board in your home in seconds and is easy to maintain. So why use a base board cover from NeatHeat versus renovating your base board?
NeatHeat's covers snap right on over your existing base board in seconds, making it a quick and easy install. Because of the cover's material composition of polymer it won't rust, chip, or dent, and they're easy to clean and paint for maintenance.
In addition, NeatHeat covers are made uniquely from standard polymers to not yellow, fade in color over time, or take thermal damage, making them an ideal home renovation option. Why use a base board cover? With NeatHeat, it makes everything easy and time-effective when you renovate the base board.
To learn more about why use a base board cover from NeatHeat, click here.