Using Baseboard Heater Covers to Improve your Home
How can using baseboard heater covers make your life easier when it comes to renovations?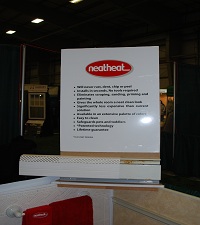 Homeowners everywhere struggle when it comes to getting their homes cosmetically redone, which oftentimes needs to be done once a year or once every couple years. There are only so many hours in a day to get work done, and taking free time to complete work like repainting walls or cleaning the attic can be fairly challenging.
The advantage to spending hours upon hours on your renovation is that you only have to do it every once in a while; once you repaint a room or redoing flooring or other renovations, you won't have to for a few years.
It's obviously important that homeowners have to spend the time to get their renovations accomplished; for many reasons it's important that your home be in the best shape possible over time.
Renovating Baseboard: Why is it so Challenging?
Many homeowners fall behind and let their home deteriorate, which can be incredibly dangerous in cases like having to sell their house. Renovations that have no longevity are incredibly frustrating, because spending all of your free time to get a renovation done to only have to do the work a short while later is not ideal and is a waste of time.
With baseboard heaters, which line the bottom of walls in most rooms of a home, there's no real good way to renovate them without them rusting within a short period of time. Because baseboard heaters are metal and absorb a lot of heat in a short period of time, they are guaranteed to get rusty incredibly quickly no matter what you do.
Baseboard heaters take a lot of time to take apart, clean, and put back together, especially considering the fact that rust, dust, dents, and other damage is hard to undo. The alternative is using baseboard heater covers, which can be a much simpler solution considering a cover can be easy to install and uninstall.
Using Baseboard Heater Covers from NeatHeat
With a cover, you can also clean them or repaint them easier, and they can be much simpler to deal with over time as they take more damage versus a baseboard heater.  However, how can you know which is the best cover for homeowners like yourself to acquire?
The optimal solution is using baseboard heater covers from NeatHeat, a company that designs the perfect reconditioning system for anyone with hot water baseboard heaters.
NeatHeat's baseboard covers are made up of a composite polymer, meaning they will never rust, chip, or get dented, which means they withstand the damage baseboard generally takes.
In addition, NeatHeat's covers have been redesigned to never yellow or fade in color, and due to their continuous white color they don't show scratches easily.
How can NeatHeat Spice up your Home?
The advantage to using baseboard heater covers from NeatHeat is not only the fact that they look good, even over time, but they are also easy to install and work with. NeatHeat cover systems consist of a six foot and four foot piece, a splice plate, inside corner, and end caps.
The pieces can be extended with the splice plate and cut easily using a hack saw or chop saw, and end caps can hold the entire system together.
The baseboard covers can also be cleaned and painted easily; all you need is spray paint or household cleaning products and the job can be done in minutes.
Using baseboard heater covers from a company like NeatHeat makes life incredibly easy in the long run, as time spent renovating your baseboard becomes little to none. To learn more about using baseboard heater covers, click here.