Why Repair the Base Board when you can Replace It?
Homeowners struggle when they attempt to repair the base board, but the easier solution is simply to snap a cover on. What kind of base board cover should you get?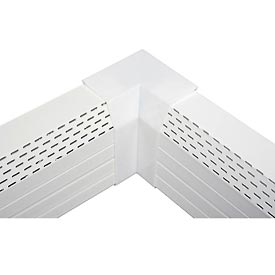 The property game is no easy field to go into, but every ends up purchasing a home eventually. The challenge with owning a piece of property is all of the different aspects that go into making that home.
From carpentry and electricity to plumbing and roofing, there are quite a few different trades that make a living off of working on homes. However, homeowners tend to do as much of the work themselves as they can.
That's because it's expensive to hire contractors every single time; however there are many advantages to hiring a contractor, even if it's costly. You do save yourself quite a bit of time when you hire others to do your work, and time is valuable in home reworks.
Many house owners spend the vast majority of their precious weekend off cleaning, repairing, and learning how to fix their homes effectively themselves. Do-it-yourself renovations are very useful, especially when you can guarantee you can renovate the home right.
After all, the end game of any home renovation is that the work is done efficiently and lasts as long as possible. But what happens when the rework will never have any longevity to it?
Why do Homeowners Struggle when they Repair the Base Board?
It's not easy feat to repair the base board since cleaning metal base board is so time-consuming and doesn't produce much in terms of a lengthy renovation. Metal is guaranteed to rust quickly, especially when it's constantly absorbing and conducting heat.
In addition, metal base board easily gets kicked and bumped into, meaning you have to buff out and get rid of dents and scratches. Dealing with base board is frustrating due to the different forms of damage and the fact that base board lines the walls along the floors in most rooms in a home.
Taking apart each and every strip of base board in your home is not enjoyable, and can suck up the better part of your weekend. What makes this worse is the fact that base board looks dismal even after being cleaned, and it's just going to rust and get disgusting again in a short period of time.
Why Does Replacing your Base Board with a Cover Work Better?
No homeowner likes to repair the base board since it's so time-consuming and doesn't provide you with any real benefit, but a cover can solve all of those problems. A good base board cover can actually replace the vast majority of your base board and improve the look of your home.
With NeatHeat base board covers, you get a good solution to improve the look of any room in your home with base board. NeatHeat covers are made of a polymer so they don't rust or dent like your base board, and they snap right on over the base board even if parts are missing.
Many homeowners will strip apart their base board with the exception of the back plate and the clips below the heating element and NeatHeat can attach right on over your heating element. The covers are designed to provide heat flow through convection, which is the better option in air flow.
Using NeatHeat can make it easier for you to repair the base board since it's a do it yourself renovation that takes seconds! To learn more about how you can repair the base board using a NeatHeat cover, click here.