The Advantages to a Paintable Baseboard Cover
What does a paintable baseboard cover do to make your life much easier when redoing baseboard?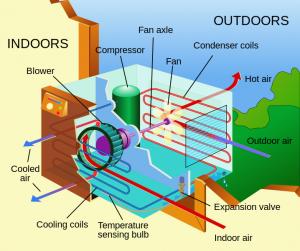 There's a reason that painting is a profession: it's easier said than done, especially on a large scale. It's not like you can just grab a can of spray paint and spend a few minutes of quick spraying to get the job done; it's always a little more complicated than that.
Most of the time you've got to do a couple coats of paint or use some kind of primer, especially when you're doing any painting in your home. Whether you're painting a few walls in a room or painting the baseboard heater, it's never an easy task.
With baseboard heaters, there's no good way to paint the heaters as they sit, because you risk getting paint on the elements. You end up having to take the heaters apart and cleaning each individual part so that way your paint coat will actually look decent.
Can you Really Paint your Baseboard Heater Effectively?
The obnoxious factor here is that your heaters will still oxidize, so within a few months they won't look good at all. With painting rooms, it may take time but at least you won't have to worry about repainting for a few years.
There's nothing worse than taking the time to take apart each strip of baseboard heater in your home, cleaning them, painting them, and putting them back together again, only to need to do some touch-up work again within a few short months.
That work is at least a day long job if not longer, and if you have to redo the work within the season, it's incredibly frustrating. Homeowners need a solution with baseboard that's easier to use and is paintable, which is why the paintable baseboard cover is such an appealing option for homeowners with baseboard heaters.
The Best Paintable Baseboard Cover you can Get
A cover that is easy to paint is easy to clean and has a much nicer look in your home versus outdated, rusty baseboard heaters. The answer is NeatHeat, which is not only a paintable baseboard cover but is also a good-looking, easy to install cover.
NeatHeat's covers are made up of a composite polymer, which means they are easy to spray paint over using a standard spray found at your average hardware store, and they never rust through either. In addition, the covers do not show scratches easily due to their continuous white color, and they do not get chipped or dented.
They have been designed a little differently from standard polymers in such a way that they will not yellow or fade in color. In addition, they have been thermally conditioned, so they will not melt or offset gas well below the operating temperatures of a home, making them the ideal cover option.
What do you Get with NeatHeat?
With NeatHeat, you get a paintable baseboard cover that's easy to install and looks good permanently. Installation is a breeze: you have six foot and four foot pieces that snap right over the existing baseboard, and short pieces can be extended with a splice plate while long pieces can be cut with a hack saw or chop saw.
In addition, the left and right end caps keep everything on tight and can be shortened in case the floor is too high, and inside corners can cover up where two heaters connected at ninety degree angle.
With NeatHeat's covers, you get the best paintable baseboard cover at the best possible price, saving you time and money in the long run. To learn more about getting NeatHeat's paintable baseboard cover in your house, click here.