Getting the Right Hot Water Baseboard Covers Replacement
How can a good hot water baseboard covers replacement improve the quality of any room?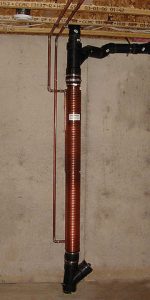 Whether you're making sure your home looks nice for company or cleaning up the office for customers, one of the more common issues to deal with is the baseboard. Any residence owner with baseboard will tell you how frustrating it is to deal with their baseboard, mainly because it almost always looks ugly.
Baseboard is constantly grimy, rusty, dented, scratched, and many baseboards in homes are even missing pieces and leaving dangerous parts exposed. They're not kid-friendly and do not add to the appeal of your home, and fixing them up is incredibly frustrating.
Even a gasfitter will tell you how much of a pain it is to clean, paint, or replace your baseboard system, which is why doing it yourself is so frustrating. You've got to take the time to take apart all of the plates and unscrew pieces off the wall just to get to the parts you want to fix up, and that's just for one wall.
Chances are there's baseboard all over the home, so you've got to do this for every wall in every room with baseboard. Plus, cleaning them and painting them is a hassle, and there's no easy way to get old baseboard looking good again.
You can pay all of that money to replace the parts, but no matter what you do, the renovations won't last long. Within a year or two, your baseboard will start getting dented, scratched, and disgusting again.
Why Should you get Hot Water Baseboard Covers Replacement?
There has to be a better way to deal with your baseboard, which is why many home owners try to find the right hot water baseboard covers replacement to use in their building.
A cover can detract from the bad look of the baseboard, keep it safe, and actually add to the look of any room while getting rid of the look of ugly baseboard heaters. However, you want the right baseboard covers; not just any hot water baseboard covers replacement will do for a home.
You want a cover that's easy to install no matter what so you can do it yourself and you can take off the covers whenever you want to clean or paint them. Your cover should also be designed in such a way that it lasts longer, doesn't detract from the heat flow in the house, and has a modern, fresh look to it.
Getting NeatHeat in your Home
Enter NeatHeat baseboard covers, which can make any ugly baseboard heater look new with a snap. With NeatHeat covers, you get a composite polymer with titanium dioxide that will not rust, chip, dent, fade, or show scratches easily due to its continuous white color.
That means these covers will not look bad over time or show any problems, and they are also made of a polymer so they aren't dangerous for smaller children to be around. The covers are also easily paintable, and since they are so easy to install and uninstall, that means painting them can be a ten minute job.
NeatHeat parts are simple to install and almost instantly snap on, saving you time and money while giving you a permanent way to deal with your atrocious baseboard. With NeatHeat, you can get the best possible hot water baseboard covers replacement at a far better rate.
Plus, NeatHeat covers act as an insulator, meaning they provide heat in the form of convection rather than absorbing heat and providing conduction, which is an effective way to provide heat throughout your home. To learn more about getting a good hot water baseboard covers replacement through NeatHeat, click here.