Getting your Baseboard Covers from Best Possible Company
How can getting your baseboard covers from NeatHeat make your life much easier?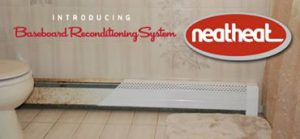 When it comes to redoing your home, it's important that you get the best deal possible for your money's worth. After all, you don't want to overspend on renovations, especially considering the fact that these renovations may not even last very long.
Whether you're having important company over, are selling your home, or it's just that time of year where you want to get your home looking good, it's important that your renovations be done in the most efficient way possible. That means saving money and time while making the renovation effective enough that it lasts a long time.
One renovation that always stumps homeowners and even gasfitters is how to get the baseboard heaters looking their best. Baseboard heaters line walls in most to all rooms in a home, and they pump out quite a bit of heat on a daily basis.
Because they provide so much energy regularly, they are often hot, rusted, and tend to accumulate dust and dents fairly often as well. You can take them apart and clean them, but taking apart each part on each strip of baseboard can take quite a bit of time and effort, and cleaning each piece may not be as simple as you think.
Redoing your Baseboard: The Right Way vs the Wrong Way
You can repaint as well, or even replace, but no matter which option you take, the baseboard will end up getting all rusted and disgusting again within a few months of your renovations. The frustration in dealing with baseboard heaters is shared amongst home owners everywhere, and the recent solutions of getting baseboard covers are not always effective.
Many a business has made covers that simply do not get the job done for you. When getting your baseboard covers, you don't want an incredibly expensive cover, and you don't want an ineffective cover.
You want something that can do the most for you at the best possible rate, and that's why getting your baseboard covers from NeatHeat can be so helpful for you.
Getting your Baseboard Covers from NeatHeat
With NeatHeat's covers, you get an incredibly effective cover at a price that is much more affordable than replacing your baseboard heaters.
Plus, you don't have to worry about constantly fixing up your baseboard with NeatHeat, as maintenance of the covers is incredibly simple. Since installation and removal of covers takes seconds, it's a breeze to just pop the covers and parts off and either clean or repaint them.
They are made of a composite polymer, so household cleaners will remove any filth almost instantly, and the parts can be easily painted using any spray paint for polymers found in your average hardware store. Since they are made of a polymer, they will never rust, chip, or dent, and they don't show scratches easily because of their continuous white color.
Other Pros of NeatHeat
In addition, they are designed with titanium dioxide to never yellow or fade in color, and have been heat treated to not melt or offset gas well below the operating temperatures of a home. NeatHeat's covers also act as an insulator, meaning they do not absorb heat and provide heat via conduction, but rather convection.
In fact, many homeowners have said that NeatHeat's covers do not stop heat flow but seem to improve it. Getting your baseboard covers from NeatHeat can easily save you both money and time, and make your life incredibly easy in the long run.
To learn more about getting your baseboard covers from NeatHeat, click here.