Baseboard Reconditioning Takes Seconds and is Incredibly Easy
Using NeatHeat makes baseboard reconditioning a fast, efficient process to save time and money.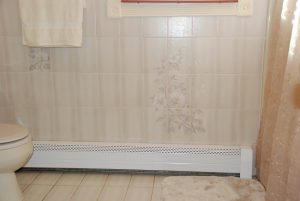 Any gasfitter will tell you that keeping your baseboard heaters clean consistently is a challenge to pull off. Most homes provide air conditioning through a hot water baseboard heater, which consists of heating elements that line the walls along most rooms in a home.
To protect these elements, they are surrounded by metal fin parts that are attached directly to the wall, but having metal surrounding a heating element brings a lot of downsides.
For one thing, metal covers that get kicked and bumped into in any way will get scratched and/or dented, and it's easy for that to happen between moving items around the house to just walking through the home.
In addition, the metal absorbing heat easily attracts both rust and dust, which make heaters incredibly ugly and need to be cleaned as fast as possible.
Why is Baseboard Reconditioning Not Easy?
Unfortunately, no matter how much work you put in, the heaters are going to oxidize within a few short months, and heaters are time consuming to renovate.
Because all of the parts are attached to the wall, they have to be unscrewed and pulled from the wall to get everything off, including the back plate, and there is quite a bit of baseboard in the home. Baseboard reconditioning takes quite a bit of time and can cost a lot of money unless you use an alternative to constantly reworking your baseboard.
Baseboard reconditioning can be much easier with a cover, because you pop on a cover over your existing baseboard heaters and don't have to worry about the constant problems depending on your cover.
A good cover can be easy to clean or repaint and gets rid of your problems like rust, denting, and other forms of damage your baseboard can take.
Advantages to Putting on NeatHeat Covers
Baseboard reconditioning with NeatHeat's covers can be one of the best solutions to your heater issues because NeatHeat covers are made of a composite polymer. Using a polymer based cover means they're never going to rust, chip, or dent, solving 90% of the problems you can get from baseboard issues.
In addition, the covers have been specifically modified with titanium dioxide, so they will not yellow or fade in color, making them a very permanent renovation. NeatHeat covers snap right on over the existing baseboard, even if parts of your baseboard are damaged or missing, meaning you can easily install the NeatHeat covers to renovate your heaters.
In fact, as long as you have the clips and the back plate, NeatHeat covers will easily install over the existing heaters. NeatHeat's baseboard reconditioning covers are very easy to maintain over time because all you've got to do is pop them off and get the necessary work done.
For example, if you want to repaint your covers all you need is a spray paint for polymers, which is found at your average hardware store.
If you want to clean your covers, household cleaners will do the trick and take seconds to implement. NeatHeat's covers redefine how baseboard reconditioning works, saving you quite a bit of time and money. To learn more about NeatHeat's baseboard reconditioning covers, click here.