NeatHeat Baseboard Covers can Improve the Look of your Home
It can be fairly expensive and challenging to renovate your house. How can baseboard covers become a factor in improving your home?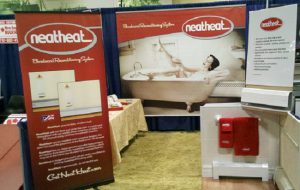 Every few years, people everywhere have to go through the same dreaded set of tasks. Renovation is always a necessity, as parts of the house deteriorate or just require some maintenance, costing you quite a bit of money and time.
Many homeowners dislike having to go through the process every couple years, especially when they know they're just going to have to do it all over again later on.
Whether it's repainting the house or remodeling the bathroom or just getting the baseboard heater covers cleaned and/or fixed, it's all work that you're just going to end up doing sooner or later. Baseboards are always one of the more frustrating repair jobs house owners have to deal with, especially in areas of high humidity such as the bathroom.
Within a few years, the baseboard heater covers get fairly disgusting to the point where they either need to be taken apart and replaced or tediously repainted, both of which are temporary fixes as they will eventually rust again.
Taking apart and cleaning baseboard heaters can be quite the chore, especially considering how hard it is to remove all of the different parts. However, there are ways for homeowners to get a more permanent fix when it comes to their baseboard heaters.
Why should I get Neat Heat?
Many people want to know why they should put baseboard heater covers in their home. With baseboard covers, you never have to worry about constantly replacing or fixing up your baseboard heater.
Gone are the days of you struggling to take apart all of the pieces of your baseboard heater just to scrape off and paint all of the dirty pieces. With baseboard covers, you can just snap them right on and you're all set.
With most baseboard covers, you don't even need the front cover; just the back plate and clips. That way, you can use baseboard covers to effectively replace the heater covers you currently have if they are too damaged to be used.
With NeatHeat baseboard heater covers, you reduce the amount of time you spend struggling to renovate your home every few years. At the same time you get a sleek modern look!
Over time, baseboard heaters end up with an old, decayed look, detracting from the value and overall look of your home. On the other hand, putting baseboard covers in your home can only improve the look and value of the various rooms in your home.
How can you get the best Baseboard Covers in your Home?
Home owners want to be able to give their home the best possible look, and they want it to be as permanent as possible. With the right baseboard covers, you can get an easy, effective way to make your baseboards look good, and that's where NeatHeat comes into play.
With NeatHeat, you can get an inexpensive, permanent way to cover up your baseboards, and the product is very easy to install and handle. The different parts are all made of a composite polymer designed to never fade.
The color is continuous without as well, so the plates do not dent or readily show scratches or chips. When using NeatHeat, you get cover plates, corner brackets, end brackets, and splice plates, all of which easily install with a snap.
NeatHeat is easily paintable, so you can spray paint them in whatever color matches your home. All of the parts have been tested to endure heat, and will not melt or off gas at temperatures below 300 degrees Fahrenheit.
There are countless reasons for home owners to get NeatHeat, but the bottom line is that you get an inexpensive, permanent way to make your baseboard heaters look good in your home. To learn more about getting NeatHeat in your home, click here.